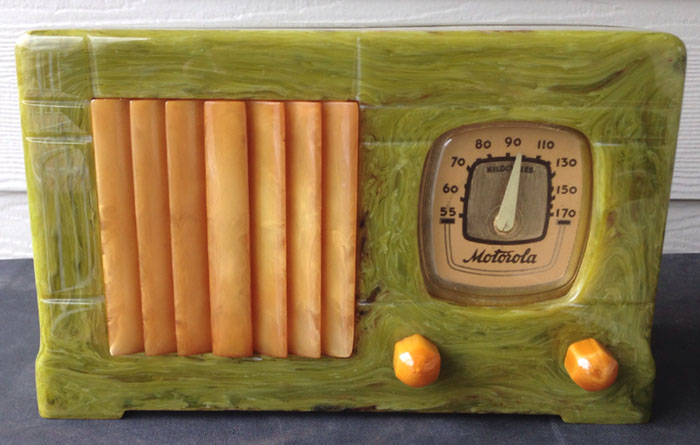 Item 34 -- MOTOROLA Model 52
Year: 1939 "Vertical Grille"
Color: Marbled green with yellow trim
Dimensions: 10" x 6" x 5"
Description/condition: The marbled green vertical grille is a great design and green is the rarest color of this model. This one has nice marbling and is a beauty on all of the displayable sides. It has all original parts. The chassis has been gone through and plays! The bottom of the radio must have sat on something hot, creating a heat mark on the bottom back edge. There is a repair done to one of the chassis mounting screw holes on the bottom back edge. This radio has incredible marbling with lots of clear areas. The pictures just can't capture the beauty of this radio.
Price: Sold
If you have any question please email paul@pontrello.com or call Paul Pontrello 425-345-6083
Click on a photo to enlarge, then click CLOSE to choose another photo or click NEXT or PREV to view others.